The Northwest Holly Growers Association is a non-profit organization founded to help members share information and to promote holly in the Pacific Northwest region of the USA and Canada including Oregon,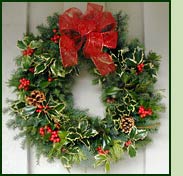 Washington, and British Columbia. To purchase holly from one of our members click on on of the members' names above which gives phone numbers, email and website addresses with information about each members' holly product specialties.
To learn more about holly we welcome you to our Holly Facts page where you can learn about the history and botany of holly, and the Holly Q&A page that will answer some of the most common questions people have about holly. The Holly Care page gives you detailed information on how to extend the life of your holly product. The Holly Showcase section gives examples of the types of products our members provide, and images of holly growing operations in the beautiful Pacific Northwest.
If you're a Pacific Northwest grower interested in finding out more about membership in the NWHGA please contact us.